The Story of Savannah's Candy Kitchen
Savannah's Candy Kitchen 40 years and 3 Generations
For forty years, and 3 generations, the Strickland family has been hand making an array of Southern confections using their family's recipes. Owner of Savannah's Candy Kitchen, Stan "the Candy Man" Strickland, learned his mother's passion and old-fashioned methods as a child. Watching her carefully select the freshest ingredients and the way she would use the cup of her hand to measure them.
In 1979, the down-home southern delights that started as Mom's recipes, were perfected and used to launch a candy store located on River Street in Historic Savannah, Georgia. The store quickly gained a reputation for Pecan Pralines, Hand Rolled Pecan Logs, Glazed Pecans, Old Fashioned Peanut Brittle, Divinity Candy, and everyone's favorite Turtle Gopher.
In 1990, with the original Strickland family recipes, Stan the Candy Man opened the first store named Savannah's Candy Kitchen. On the east end of River Street, in Historic Savannah, Georgia you'll find a copper kettle hanging above a red awning. Inside there is a sense of heritage and love that goes into every hand-made candy. Although not the first of the Strickland Family's candy stores-in Savannah (that one was named River Street Sweets); Savannah's Candy Kitchen, has become the largest candy store in the south.
Through all the change and growth every candy, every cake, every confection is, to this day, made with the care and traditions that began it all. Savannah's Candy Kitchen keeps things simple, easy and wholesome and selects the freshest, high quality ingredients. Every Southern delight is positively mouthwatering.
Family favorites include the towering, fluffy, golden Praline Layer Cake; the iconic Pecan Pie; and Caramel Apples so large and crisp that simply calling them colossal hardly seems fair. Savannah's Candy Kitchen has grown into seven retail locations throughout the southeast. Including the original River Street location, and City Market locations in Historic Savannah Georgia, there are stores in Charleston, SC; Nashville, TN; National Harbor, MD; and two in the Atlanta Airport, concourse B and C.
In 2014, the two stores began to franchise under the merged brand name River Street Sweets • Savannah's Candy Kitchen. The first franchise opened in Pooler, Georgia at the Tanger Outlet Mall in 2015, followed by Key West, FL and Lancaster, PA. In 2019, stores opened in Greenville, SC and San Antonio, TX, but that's not all. Look for locations in Asbury Park New Jersey, Orlando Florida, The Battery in Atlanta Georgia, and in the Salt Lake City Utah area to open soon.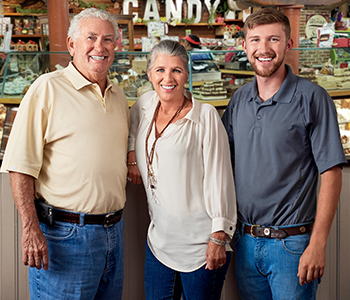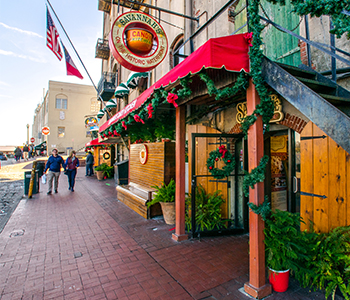 In the News
---
---
---